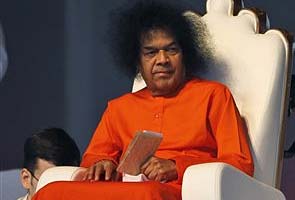 It took
twenty people
36 hours
to count the cash recovered from Sai Baba's ashram in Puttaparthi, claim reports in local media.

According to these reports,
98 kilos gold
,
11.56 crores in cash
, and
317 kilos of silver
have been discovered in one room at the ashram in Andhra Pradesh. The money has been deposited in the State Bank of India in the accounts of Sai Baba's Prashanthi Nilayam trust. Income Tax officials are now believed to be assessing the value of the gold and silver found at the ashram.

A press release is expected shortly from the Trust.

The spiritual and religious guru of millions died on April 24.

The room where the treasure was recovered is called the Yajur Mandir, which was locked up when Sai Baba fell ill in late March and was moved to a local hospital. It was opened last evening by members of the Trust and Satyajit, who was Sai Baba's personal assistant. They reportedly refused local requests to allow the police to be present when the chamber was opened. Unconfirmed reports suggest a pair of gold slippers has also been found.